Awaken Your Inner Goddess with Sexual Healing
and Mind-Blowing Orgasmic Release
~ Discover the Divine Feminine Within ~
The ultimate masterclass for women who want to explore their sexuality and experience true sexual healing
Are you ready to awaken the Goddess within you?
Do you want to learn how to experience deep, mind-blowing orgasms and unlock the superpower that has been dwelling inside you all this time?
The Vaginal Orgasms

Masterclass teaches you how to unlock your full sexual potential and awaken

The G-Spot, Sacred Spot, and Cervix

for an

unforgettable sexual experience.
"I have attended 1000x of workshops and I can say Leah + Willow are masters of threading the masculine and feminine together into a web or loving light. They create a space so yummy and so juicy even the most fearful felt safe and I know because that was me." - Whitney
If You're Suffering From The Following, This Course Might Be For You if...
▶ You are sexually unsatisfied and frustrated with failed attempts at communicating your needs for a slower, more conscious, and more intimate connection with your partner.
▶ You are weighed down by past negative or traumatic sexual experiences that seem to sabotage your relationships and leave you feeling broken and isolated?
▶ You have felt confused & impotent to help your partner's issues around her sexuality shut down, unorgasmic, & denial that she's beautiful.
▶ Have you felt envious of other women who seem to have all this orgasmic energy that seems out of reach for you?
▶ That critical voice in you whispers… "you don't have what it takes to awaken the Divine Feminine!"
▶ Staying present during sex is challenging for you. You find it difficult to surrender and struggle to be vulnerable and truly seen.
▶ You experience uneasiness or dread because you can't seem to figure out the gspot thing, you're either not experiencing the pleasure people speak of or the pleasure you expect your partner to have is NOT HAPPENING. You're tired of feeling inadequate and craving confidence beyond your reach.
▶ You tend to dissociate during sexual intimacy and wish it were easier to stay present & in your body.
It's Time To Love
Yourself Again
Nurture the parts of you that have been neglected, so that you can build virility & confidence.
I'M READY!
THE JUICY CONTENT YOU CAN EXPECT INSIDE OF THIS MASTERCLASS
→ Best Practices to awaken the 3 big sources for internal vaginal orgasm - the Gspot, the Sacred Spot, and the Cervix
→ 7 different massage strokes for the Gspot and Sacred Spot that will have you dissolving blocked energy and unleashing a reservoir of shakti (the divine feminine life force sexual energy).
→ How to locate the magnetic pulse of the Sacred Spot, the best methods to stimulate it for maximum pleasure, and the process for which accessing its inner wisdom is made possible.
→ Common misconceptions of the Gspot including its anatomy and function as an erogenous zone.
→ Refreshing new perspectives on how to use sexuality to improve your emotional, mental, and physical health in ways you never thought would benefit many of the separate sectors in your life.
→ How to leverage the mirror neurons between you and your partner to enhance the skill of coaching a partner through new techniques and the role breathing and body language signals play in strengthening your listening skill of attunement. A must for anyone who aspires to be a great lover!
→ How to delicately penetrate the yoni and bring forth arousal and pleasure with ease
→ Discover how the Gspot, clitoris, and sacred spot activate each other, complement each other, and provide different meanings and sensations from each other.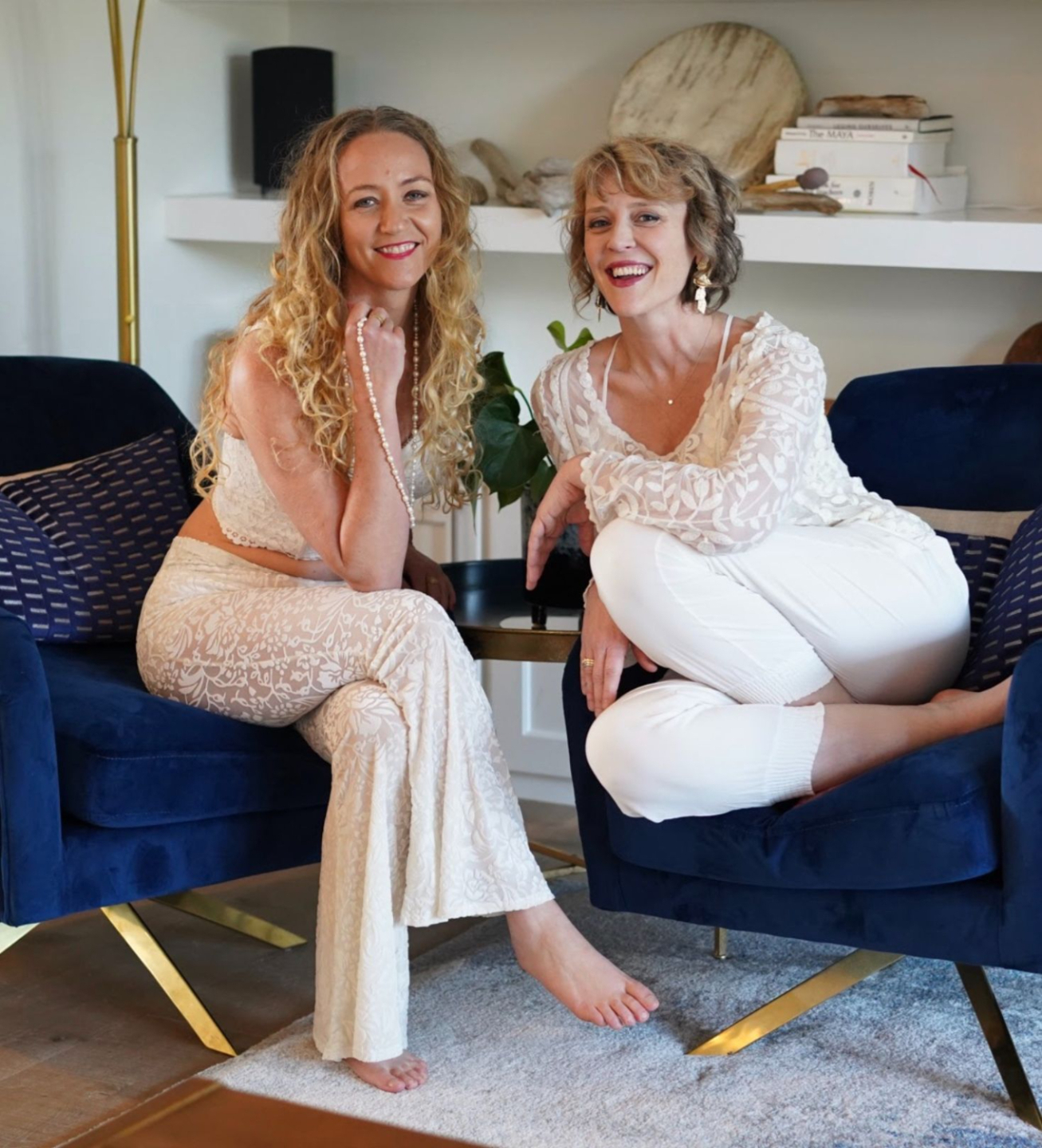 Everything you need to achieve your biggest climax yet
Here's a deeper dive into this Masterclass
Module 1
The Whole Body - Worshipping Every Spot of the Goddess
You will learn new ways to connect with your partner and deepening your intimacy by discovering new sensations of bliss and emotional connection.
Plus life changing techniques for sensual tantric breast massage that will take your arousal to new heights. And we'll show you how to use eye gazing to amplify your intimacy and build trust with your partner.
Module 2
Transformation - Sounding & Affirmations for Healing + Ecstasy
There's more to your sexual centers than clits and tits, your WHOLE body is part of the circuitry that enhances pleasure. Do you know how to build the kind of anticipation that creates rapture? What about the kind of sensual breast massage, that has her arching for more? Are you comfortable with eye contact, breathing, vocalization, and affirmations during intimate moments, because these are essential for mind-altering intimacy.
Module 3
Mudras & Chakras
The power of chakra activation creates and electric sensation in your skin that is absolutely magnetic! The ancient technique of hand mudras, coupled with stillness deepens your connection and pleasure with your partner or Self. This module encourages you to approach intimacy as a sacred practice for personal growth and spiritual awakening.
Module 4
The Vulva
There are two key spots in the female anatomy that play a crucial role in sexual pleasure. One, you surely know about, the other I doubt you have every heard of. Come learn what they are, where they are and how to make them jiggle with joy. The techniques for stimulating these MVP's will ignite rapture in any vulva owners body.
Module 5
The G-spot
Understanding and skillfully exploring the G-Spot, will not only provide deep and profound healing, but can lead to the kind of O's that gush from the gates of the Goddess. This often misunderstood area, can easily be left unexplored to it's fullest potential, but you deserve to awaken this power center within your pussy. Because when you do, you step into your highest potential!
Module 6
Seven Internal Vaginal Strokes
This ancient set of strokes has yet to experience a pussy left unsatisfied. It is best to know them all, even if you don't always use them all. They are designed to enhance pleasure and stimulate arousal beyond the vag. They reverberate excitement throughout the entire body. Learn each stroke in detail for maximum pleasure and connection.
Module 7
The Sacred Spot
There is a hidden gem along the body of the G-spot. Do you know where it is? Do you know how to stimulate this highly sensitive area for maximum pleasure and spiritual connection? By understanding the power and emotional healing and the potential of the Sacred Spot, you can experience transformative changes in your sexual and spiritual life, leading to deeper levels of pleasure, intimacy, and personal growth.
Module 8
The Cervical Orgasm
The cervical orgasm is a powerful and often elusive style of climaxing. These cervical O's often lead to womb-gasms. You've got to know the anatomy and function of the cervix, as well as techniques for stimulation in order to achieve this transformative experience. By exploring the potential of the cervical orgasm, you can experience a new level of sexual pleasure.
Module 9
Sexual Healing
Sexual healing is essential in opening the pleasure pathways that course throughout your entire body. Exploring how sexual experiences can be used for emotional and physical healing enlivens your connection between the body, soul, and enhances your ability to create the life you dream of. You can use this connection to heal emotional wounds and trauma.
Module 10
The Finish
Now you are ready to integrate and apply the practices and techniques learned throughout the course. You have all that you need to incorporate these practices into your life, to deepen your connection with your partner, so that you can enhance pleasure and intimacy in all aspects of your lives. Get ready to experience a new level of sexual mastery, personal growth, and spiritual connection.
In Addition to Exploring these
✨ Dripping Erogenous
✨ Zones
You're also receive these Course Companion BONUSES:
Bonus #1 >

$27
The Jade Egg Masterclass
In this bonus, we'll show you how just one spiritual practice with the Jade Egg can have a big impact on your daily life. You'll learn three key things about the Jade Egg practice that will help you fall in love with your body no matter your age, size, color, or weight.
With the Jade Egg, you'll discover a powerful tool for increasing your awareness and connection to your body. By incorporating this practice into your daily routine, you'll experience a greater sense of clarity and presence throughout the day, helping you to live a more fulfilling and anxiety-free life.
Bonus #2 >
$27
Sacred Spot for Women
The Sacred Spot/G-spot Strokes for Women Course Companion is a comprehensive guide for women to discover and stimulate the G-spot, offering detailed instructions and techniques. This guide helps women deepen their understanding of their bodies and enhance their pleasure, leading to a more fulfilling sex life. It's a valuable resource for any woman looking to unlock the full potential of her sexuality.
Bonus #3 > $27
Deepest Hearts Desire Video + Handout
A powerful way to build trust and intimacy. This practice involves sharing your most authentic, vulnerable desires with your partner and listening to theirs with an open and non-judgmental heart. By doing so, you create a safe space for each other to be fully seen and heard, fostering a deep sense of trust and understanding. Through this practice, you can cultivate a more intimate connection with your partner, and build a foundation for a fulfilling and lasting relationship.
Bonus #4 >
$27
Chakra E-book
The Chakra E-Book sheds light on the concept of chakras as secondary erogenous zones, highlighting how balancing and stimulating these energy centers can enhance sexual pleasure and overall intimacy. This E-book is a valuable resource for anyone looking to deepen their understanding of the chakras and tap into their full potential for physical, emotional, and spiritual health.
Bonus #5 >
$7
Female Tantric Practices
Understanding how to use tantra throughout your whole life, not just in your sex-life is one of the most powerful things you can learn in this life. It will keep you coming back home to yourself, no matter what happens in your outer life. Through core, center, and essence a deep union with the Divine is awakened and a powerful sense of trust in yourself will grow.
Bonus #6 >
FREE
Leah's Suggested Reading Shopping List
Receive Leah's top 9 books she recommends to passionate seekers committed to evolving as a person and lover. Each book provides actionable insights that, when practiced, produce lasting transformation in intimate relationships, tantric sexuality, personal growth, and spiritual healing practices. Discussing any of them at a dinner party is sure to engage in an enlightening, entertaining, thought-provoking conversation.
You Are Ready If Any Of The Following Resonates With You...
💃🏼 Sexuality is so fascinating to you, and you often can't imagine how difficult it must be for others to be so shut down to pleasure and disconnected from the beauty in sex. You love engaging in deep conversations around spirituality, relationships, and intimacy pertaining to sex, and can't wait for the next learning adventure.
💃🏼 Are you yearning for a more profound and spiritual experience within sex that puts you in touch not only with your divine essence but makes a soul-to-soul encounter with a lover possible?
💃🏼 You hear others talking about the pursuit of "sexual sovereignty", orgasmic responsibility to one's self, actively understanding what turns you on / off, and knowing more about communicating those discoveries would go a long way to having the sex you want instead of settling for the sex you get.
💃🏼 You are reticent to believe the whole gspot hype… but you know lots of women who have experienced multiple orgasms, and if it's something you can learn how to do, why wouldn't you find out?
💃🏼 Wouldn't it be awesome if you could easily provide multiple thrilling orgasms, with nuanced variety so unforgettable that women can't stop talking to their girlfriends about it?
💃🏼 Would learning how to finally surrender and release grief, fear, and uncertainty benefit your outlook on life, love, and relationships?
MEET THE FOUNDERS
Tao & Tantra Experts Come Together
Dr. Willow Brown is a Chinese Medicine doctor, Functional Medicine expert & internationally recognized teacher of Taoist Sexology. She bridges sexuality, spirituality and medicine so that her students and patients truly understand how to use their sexual energy to create the life they desire.
Over the last 20 years Leah Piper has taught thousands of couples and individuals all over the world through her school More Love Works® She is an intimacy expert with multiple advanced certifications in Tantra Yoga, Positive Psychology, and Somatic Therapies. Leah knows firsthand just how challenging relationships and sex can be. But through her journey with tantra, she learned to understand sexual healing and the profound power of intimacy, as a result she overcame her own sexual challenges, and now it's her mission to help others do the same.
"Willow and Leah were great! Their story always touches me, but the way they weave it into the chakra system and how it lands were so good."
Karin
"I attended the masterclass not so much to learn something new, but to see what tips might 'broaden my repertoire'. And there were! It has already made a difference and I think I needed a bit of something different."
Simon
14-DAY MONEY-BACK GUARANTEE
If you aren't completely satisfied with your Masterclass, let us know within the first 14-days for a full refund. No questions asked.
What if my partner scoffs at giving or receiving this ritual?
What if I don't have a partner?
What if they start a fight?
What if I cannot watch the Masterclass all at once?
What if I tried it in the past and they or I didn't like it?
What if I or my partner is uncomfortable with their own body being nude?